BOSTON, JUNE 4-5th 2013
GUY AITCHISON_BOB TYRRELL_NICK BAXTER_NIKKO HURTADO_ALEX DE PASE
SEMINARS: GUY AITCHISON _ BOB TYRRELL _ NICK BAXTER _ NIKKO HURTADO _ JEFF GOGUE _  ALEX DE PASE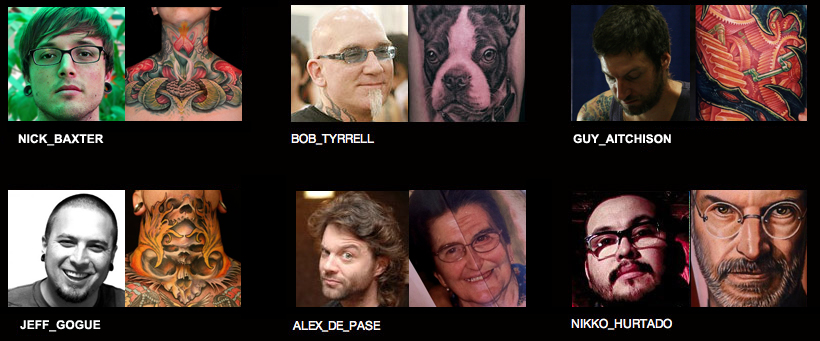 THE FIRST WORLD WIDE TRAVELLING CONFERENCE IN THE TATTOO COMMUNITY!
The World's most famous Tattoo Artists will gather together to share their expertise and experiences.
The program includes a series of highly integrated core SEMINARS and lectures that provide attendees with a great opportunity to learn more about the technical skills, tips & tricks and suggestions that can make you a better tattooist.
Every artist will explain his unique artistic approach to body art and show his own peculiar vision on the tattoo world.
By joining the travelling WWTC, you will:
- become familiar with the techniques and tricks used by many appreciated tattooists
- be provided with different visions of the tattoo as a work of art in different styles
- learn how to adjust your style and improve your performance
- share your knowledge and ask questions to the artists during the discussion panels
- submit pictures of your work to be assessed and evaluated by the artists during the criticism corner
- take part in the WWTC award
- be an active party in improving dialogue and communication among the global tattoo community
- meet in person the best tattooists you've always looked up to as a model
- have fun and be overjoyed by the sense of overwhelming familiarity
DO NOT MISS IT!
http://worldwidetattooconference.com/
WWTC AWARD:
How to partecipate: registering for the Boston WWTC will entitle you to join the WWTC AWARD competition. You simply need to send us via e-mail the best pics of your works (max. 6 photos), which will be assessed by the 6 artists speaking at the seminars. The name of the winner will be announced during the conference and he/she will be prized by getting a free ticket for a 2-night-stay at the hotel hosting the following WWTC. The winner will also be welcomed in the discussion panel of the 6 artists speaking in Boston and he/she will be asked to comment and join the discussion.
WWTC AWARD Trophy!Don't waste time! Sign up and send us your pictures!